My Little Pony: Friendship is Magic season 5 episode 18 "Crusaders of the Lost Mark" has a colt with "super teeth", who can lift a heavy see-saw by grabbing one end with his teeth.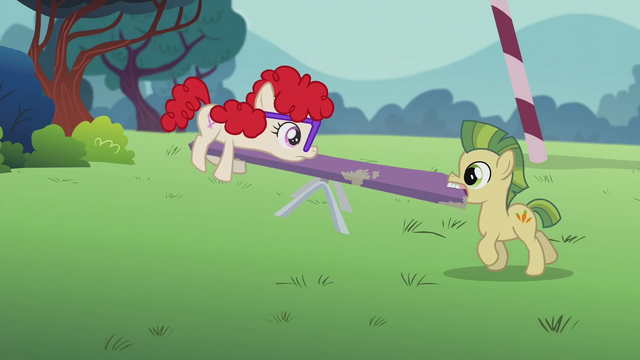 (This pony reappears in S5 E24 and S6 E19, and gets dental braces in the latter. He is unnamed in the show, has a yellow coat, green punk-style hair, and three carrots as a cutie mark. The fan nickname is Carrot Crunch.)
We know that lifting heavy objects with his teeth is a remarkable ability, at least for a foal, because Diamond Tiara mentions it. (Without this remark, it would be hard to judge how rare this ability is. Earth ponies do sometimes grab objects with their mouth, and S3 E3 and S2 E20 demonstrates that they pull ropes with their mouth. But the strength of ponies is generally portrayed in a very inconsistent manner in this show: ponies always have as much or as little strength as suits the plot.)
Are the super-teeth a reference to a superhero from outside the Friendship is Magic universe? Is there another superhero or supervillain who is definitely portrayed as lifting heavy objects with his teeth, preferably in a way where they grab a horizontal object by one end so that it's obviously unbalanced? Is there perhaps one of them who this pony is trying to resemble (eg. male, has similar colors)?
I'd be interested about this super-power appearing in any fantasy or science fiction media, be it comic strips, live action films or anything else.